ALX D Signature Othello Ravez
Short description
Note : D / Ré - 1er Hoot : E / Mi
Fabrication spéciale Othello Ravez

Produit plus disponible
Description
Mes commentaires: Alex Didgeridoo a réalisé ce didgeridoo avec la complicité, d'Othello Ravez. Dans un but: celui de valoriser le partenariat entre un artiste et un fabricant pour développer un instrument bien précis. A travers l'apprentissage traditionnel et l'exploration contemporaine de l'instrument, Othello crée un univers musical unique et envoûtant. La colonne d'air de cet instrument est relativement ouverte, ce qui donne un didg gourmand en air mais qui garde une jouabilité très confortable, et qui est idéal pour le jeu Joue/Diaphragme... Le rebond du diaphragme se fait tout en souplesse et les joues se vident avec aisance, quand aux survibrations elles sont tout simplement magnifiques et bien réparties ! Alex a su trouver un équilibre qui offre une chaleur et une présence sonore extra!
Classe: instruments supérieurs
Instrument garanti 3 ans par Alex
Les Frais de port sont offerts! (uniquement pour la France)
Housse de transport offerte!
Classe:  instruments supérieurs
Dans cette classe, le didgeridoo est fabriqué spécialement pour un artiste professionnel, ou lorsque le bois utilisé possède une particularité esthétique tout à fait particulière et remarquable. La garantie constructeur pour ces instruments est également de cinq ans.
Classification
This scale is the result of an air column/bell start ratio If we divide the diameter of the bell with that of the beginning of the air column we get a number between 1.5 and 3.5. We can classify all the didgeridoos in 4 large families. Each family groups the instruments with a similar character, simply based on the overall shape of the air column (conical/cylindrical) and on the diameter of the column (wide/narrow). The result is a simple and very reliable reading grid, making it easier to search and purchase on line.
The diameters are measured with a caliper, start of the air column after the mouthpîece. This ratio is very reliable for a didg having a air column with a 'smooth' internal work, in the case of a hollowed eucalyptus instrument it give an approach of the instrumental character.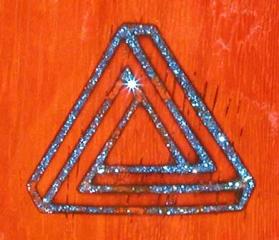 Alex Didgeridoo
Fabricant français de didgeridoos selon la méthode du Sandidg
Alex, Qui est-il?
"La passion pour la fabrication de didgeridoos m'a pris très naturellement en 1994, alors que je découvrais l'instrument. J'ai alors réalisé des instruments en érable dans l'atelier de modelage sur bois familial. Mais je n'ai commencé à m'intéresser à la fabrication de didgeridoos en eucalyptus d'Australie creusés par les termites que bien des années plus tard, lors de mon premier voyage en Australie. Depuis, je travaille de multiples essences de bois et j'ai développé différentes techniques de fabrication. Restant toujours curieux pour de nouveaux bois, de nouvelles protections et de nouveaux instruments, j'enrichis ainsi mes compétences et ma gamme d'instruments."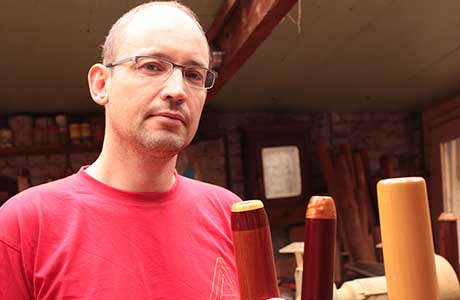 Comment Alex fait-il ses didgs?
"La technique que j'utilise consiste à réaliser l'instrument en 2 parties, puis de coller ces parties ensemble. La grande particularité des didgeridoos 'sandwich' que je fabrique consiste principalement dans le choix du bois ; je ne choisis pas une branche comme point de départ, comme beaucoup le font, mais je vais acheter du bois avive ou en plateau, parfaitement sec, sélectionné avec soin et d'essences de grande qualité, dont je sculpte entièrement l'intérieur et l'extérieur. Cette façon de procéder me permet de réaliser n'importe quelle forme, ma seule contrainte restant les dimensions du morceau de bois original." Alex