Description
Mes Commentaires : La réputation des didgeridoos de véfoun n'est plus à faire, fabrication irréprochable pour un didg au meilleur rapport qualité/prix. Ultra léger, pour une facilité de jeu et un volume sonore impressionnant avec l'exécution des hoots ultra simple! Beau travail intérieur/extérieur. A souligner aussi, l'embouchure circulaire idéale, travaillée avec les différentes essences de bois! Particularité de cet instrument la décoration a été faite par electrification! 
Les Frais de port sont offerts! (uniquement pour la France)
La housse de transport est offerte!
Classification
This scale is the result of an air column/bell start ratio If we divide the diameter of the bell with that of the beginning of the air column we get a number between 1.5 and 3.5. We can classify all the didgeridoos in 4 large families. Each family groups the instruments with a similar character, simply based on the overall shape of the air column (conical/cylindrical) and on the diameter of the column (wide/narrow). The result is a simple and very reliable reading grid, making it easier to search and purchase on line.
The diameters are measured with a caliper, start of the air column after the mouthpîece. This ratio is very reliable for a didg having a air column with a 'smooth' internal work, in the case of a hollowed eucalyptus instrument it give an approach of the instrumental character.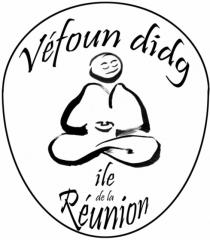 Véfoun
Fabricant de didgeridoos en Agave, l'île de la Réunion
Véfoun, Qui est-il?
Amoureux des arts premiers et des matières naturelles, artiste touche à tout, et menuisier de métier, je me suis installé à la Réunion depuis 10 ans dans la région ouest de l'île. Zone la plus sèche. L'agave (choka à la réunion ) y est omniprésent et donne une hampe floral avant de mourir, il me semblait donc évident de l'utiliser. Sa forme étant déjà parfaite pour un didg, j'en suis arrivé à fabriquer mes didgeridoos moi-même.
Comment Véfoun fait-il les didges?
"Bon je ne vais pas trop vous donner de détail, (secret de fabrication oblige) mais voila dans les grosses lignes la fabrication: Je coupe mon agave en 2, je trace mes différents diamètres suivant la note que je veux obtenir, ensuite je creuse mes deux parties à la gouge, vient après le recollage à la résine époxy ainsi que 3 couches à l'intérieur du didg, une de peinture rouge et 2 de vernis aquaréthane et pour l'extérieur. Il ne me reste plus qu'à ajuster la note avec l'embouchure en bois, et y mettre une couche de résine époxy et 3 couches de vernis."Véfoun.